24 Dec

December 2022 Update

Happy Holidays backers! We normally drop updates at the end of the month but wanted to push this one up a week to sync up with the holiday season. Many of us in Japan work straight up until the 28th of December but hopefully you are able to unplug and enjoy time with your friends, family, and GAMES!

The data for the survey has been locked and we are in the checking phase of the Backerkit store but rather than trying to rush the store out during a busy holiday time period, we have decided to wait until January for its launch. As always, thank you for your patience!

Speaking of the survey, one of the questions will be "What is your Discord ID?" As you recall, one of the rewards will be receiving a special Discord backer role. It's much easier to coordinate supplying this if we can receive this information when you fill in your survey rather than doing it after the fact. Of course, some of you don't use Discord or don't want to and that's totally fine but there will be some trivia, contests, and of course the developers jump in for Q&A sessions on a regular basis so you would miss out on some cool things and also wouldn't get the chance to talk with other Armed Fantasia and Penny Blood fans.

We have some great content updates planned for the future but one of the challenges during early production is that there isn't a lot to show besides character art. Judging by the ongoing fan art that you amazing people keep submitting to Armed Fantasia and Penny Blood Discord servers, you do love the art for the game but we want to show more to our backers! So we have decided to cast a big spotlight on the music for the games. Starting next year we plan to have one mini studio sessions, DJ events, and additional concerts that will be viewable by backers. We want to make sure you are a part of this journey and get to reap the benefits of being a backer!
★ PENNY BLOOD Update Report
◆2022.12.25
PENNY BLOOD Project Diary
Good evening, everyone. Machida here. It's a snowy wonderland outside. Once again, I'm penning this update for you from my studio in Bandai, Niigata, where it's either rain or snow flurries every day.
The end of this truly memorable year is finally upon us – but before that, we get to enjoy a fun Christmas and a relaxing New Year's. These are my two favorite weeks out of the year.
-Project Overview
After writhing in agony for days upon end, we fell down seven times, got up eight times, then moved forward three steps only to fall back five. (Wait, that means we lost progress!) Another month went by in the blink of an eye… But we're basically having fun as we continue to build out the walkthrough version.
Recently I've been working with the development staff on deciding the camera angles, then fixing them, as well as changing the structure of the buildings so that it'll be easier for the players to empathize with Matthew as he walks through the various landscapes. With every little crumb of progress, we continue to hone in on the experience we want to deliver to players with this walkthrough.
-Story
I'm planning on utilizing my winter vacation to dive deep into my own world and build out the overall story for Penny Blood… But it also might be nice to get a change of pace and spend some time at a hot springs inn and think up stories and dialog for the characters that way. Niigata has many different candidates to choose from, such as Minoya Hot Springs, Iwamuro Hot Springs, and Tsukioka Hot Springs.
-Design
Now that Kato-san has finished work on the Hellhounders, she's working on the design of Luca's wolf form. Meanwhile, Hanya-san is still hard at work on Cthulhu mythos-based monsters. Watanabe-san is busy drawing a famous tourist spot in Tokyo, which will serve as the stage of a violent battle. It's a spot you all know… But it looked completely different 100 years ago. I'm really excited to see how Hanya-san's version turns out.
-Sound
Hirota-san and Kaida-san created another new song this month. I hope you'll all give it a listen in a warm room as you reminisce about the end to the Double Kickstarter campaign, which was arguably this year's most exciting event. It's a Christmas arrangement, but it's still bursting with Penny Blood spirit. Truly a great song.
-Other
Since it's the Christmas season, Kato-san and Hanya-san both drew new illustrations for this update. Kato-san's illustration will be published on the official site, while Hanya-san's illustration will be published on Instagram, so be sure to check them out!
See you next update! Hope you all have a very happy New Year.
Matsuzo Machida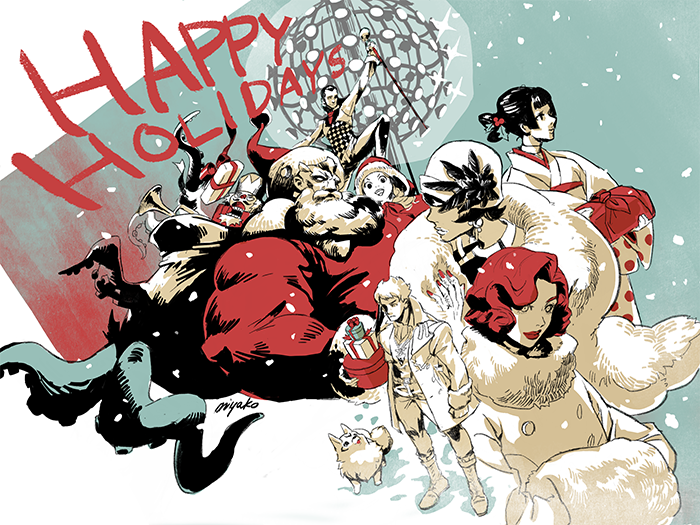 Message from Yoshitaka Hirota
In order to keep with the "Very Merry Xmas" theme, I'm presenting you all with an Xmas arranged version of a Penny Blood song.
I arranged the first half, while Kaida-san arranged the second. See if you can guess what song it is!
I used handbells for the melody in the first half. I imagined the Penny Blood characters actually playing the song on handbells while I worked on it.
Development-wise, I'm still focused on doing sound work for the walkthrough demo. We decided on what middleware we're going to use to implement the sound, so I'm studying and researching various things to make sure the implementation goes smoothly. Despite having done several arrangements thus far, it turns out that some tracks will have to undergo serious changes in terms of their overall direction. I've also been working on new songs and imagining what my route for next year will be. I'm enjoying it all as I do my best.
This year we announced that we're working on the game and ran the Kickstarter. I met lots of different people and reunited with many others. I also received tons of messages from everyone, making it a very memorable year. I also feel happy that I'll be able to submerge myself in the world of Penny Blood next year, too.
I'll work hard along with everyone else to make sure we can deliver you the best game possible, so I hope you're all excited.
Have a merry Christmas and a happy New Year!
Yoshitaka Hirota