25 Sep

Penny Blood Creators Desktop 04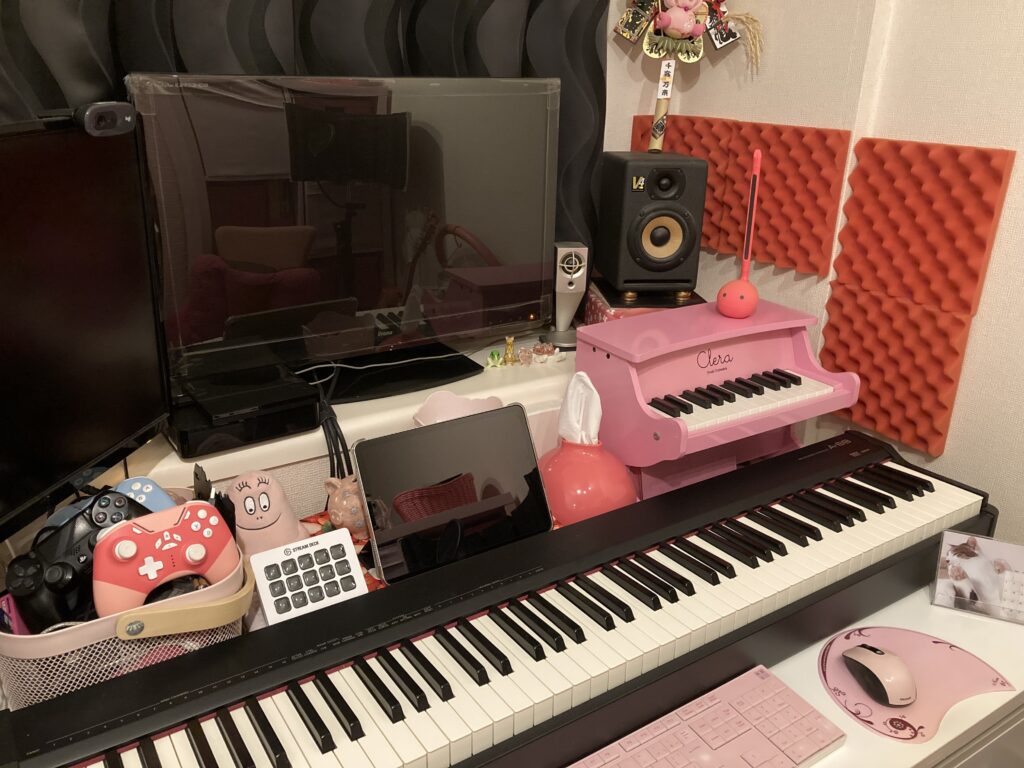 Composer Kaida here. After watching all the other creators show off their beautiful desktops, I'm still not sure if it's okay for me to show off my own goofy workspace… I'm sorry it doesn't match up with the color of this website!
Anyway, I'm someone who always wants to be surrounded by a favorite color, so almost everything in my room is pink. I'm not as extreme as some entertainers, but from some point in my life I just became this way. I'm always seriously thinking things like "How come they don't sell monitors with pink frames?" and "Why are equipment with pro-level specs mostly black and not pink? That's so mean."
When I took these pictures, it was raining and there was a lot of thunder, so I had just turned my PC off. Sorry about that. As you can see, I use two monitors. When I listen to things through my monitor speaker, I move the left screen with an arm and use that. My monitor speaker is a KRK V4. It's pretty old, so I'm thinking about buying a new one.
You can't see it in this photo, but I use a Windows computer. My DAW (digital audio workspace) of choice is CUBASE, and I use my iPad as my DAW controller. the STREAM DECK you see on the side is a very talented piece of equipment that lets me create settings per app.♪
Once I saw Hirota-san's amazing instrument parade, I felt like it wouldn't be worth showing any of mine… But in the above picture, you can see an otamatone, which I'm sure everyone is familiar with, and a toy piano. Now, I'll introduce some of my utterly toy-level instruments.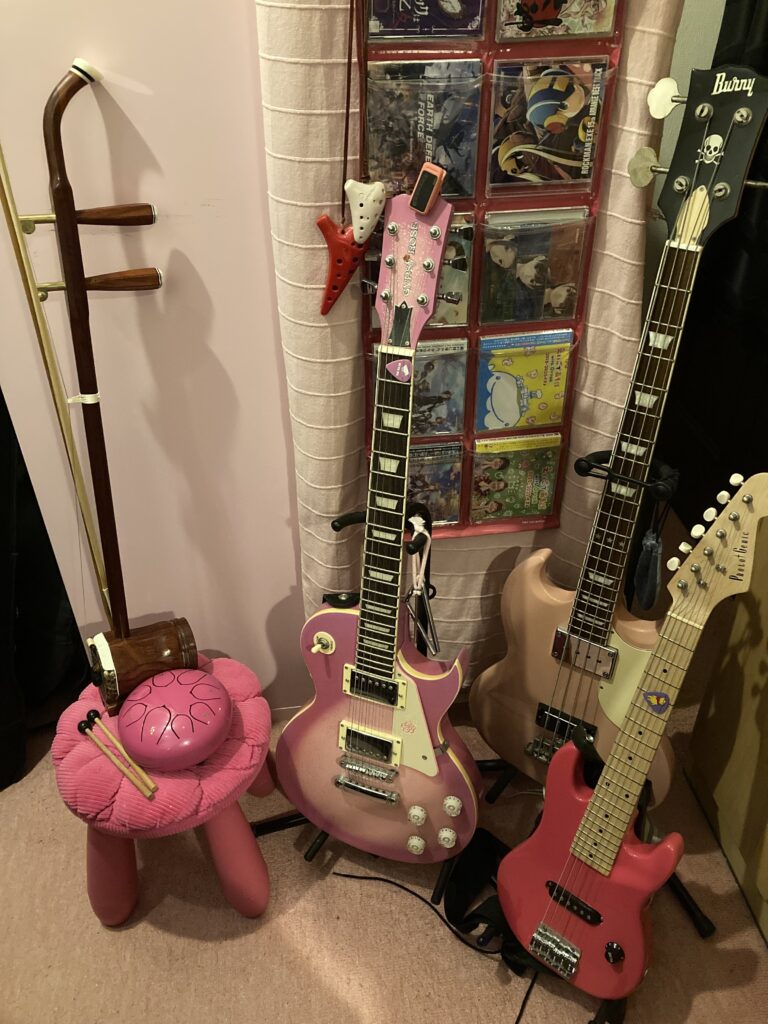 I'm terrible at playing string instruments, but there are times when I absolutely need guide sounds, so I can play a little… But I'm below a beginner level when it comes to actually performing on them, so I bought guitars and basses to match my level. That's right… As you can see, I chose them entirely based on their appearances. I couldn't find a pink Erhu, so I just had to go with that one… Incidentally, the little ocarinas you can see hanging there are ones I've lovingly used for many years.
The sounds of an Erhu are tear-inducing, so after I heard how it sounded I really wanted to try playing one and bought one. Next to it is a small slit drum, and below that is a bigger tongue drum called a RAV Vast.
This instrument's sounds really enchanted me as well, so I imported it directly from Russia back before it could be acquired through international orders. A simple tap creates a sound so sublime that it feels like it'll lift all my earthly desires away.
I don't have photos of these, but I have a lot of other healing sound instruments/instruments that I have experience performing with, such as a clarinet, kalimba, cajón, and a piccolo. My ears are too used to electronic sounds, so they're all a source of healing for me.